About LKKER SCM
(Member of LKK Design Group)
🚩Shenzhen, China
Best supply chain management provider in China
LKKER SCM is a product design and engineering firm over 10 years' experience offering professional services that support projects from concept through production.
We serve diverse clients especially like startup company, mature enterprise and provide complete product development services around the globe.
Our supply chain solution covers industrial design to production management providing integrated processes that propel your project forward from any stage in the product development process.
New Product Development Process
You Focus On Your Product Selling.
We Focus On Your Product Manufacturing.
What's new in the industry
What are the newest products in the market right now? what are the main riskes when making production in China? How can we save more cost on product development? Find more news on our blog.
Trusted By These Companies
"Thanks for LKKER SCM continued support. LKKER is not only providing a design or product development supports, but also creating a ecosystem to involve in more extra values that they can bring to their partners. More win-win business model has been explored by our cooperation."
Nestle-Alan ( Technical Procurement Manager )
"LKKER SCM has been working with us for 3 years in the concept car parts and accessories development. They are delivering great designs and prototypes to support our R&D process and marketing activities. "
Hyundai Mobis - Steve ( Technical Project Manager )
"LKKER SCM is an innovative company which has been integrating all social resources together to make some differences. IKEA have witnessed the wonderful changes that LKKER brought to new retail field. IKEA love to work with LKKER to bring more fantastic products to our final users."
IKEA- Freda (Managing Director New Retail)
"We have saw how hard for many makers or startup to make their products after got crowdfounding in Indiegogo. It related to tech development, suppliers matches, cost control, delivery time, etc. LKKER SCM is a great partner to help them to finish product from design to manufacturing."
Indiegogo-Jean(Managing Director of Indiegogo China)
Factories & Facilities
Hardware Factory
Hardware products play an irreplaceable role in a product. Choosing good hardware accessories can make many structural parts safer and more convenient to use.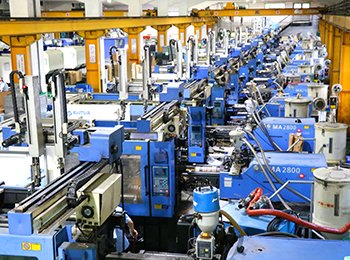 Molding Factory
Choose a suitable high-quality molding factory, standardized management, thorough process, strong sense of service, guaranteed quality and service. We can guarantee the delivery time for customers, guarantee product quality, enjoy all-round cost advantage and extra services.
Prototyping Factory
Skilled engineers and technicians ensure accurate and consistent drawings, strict control of the whole process, short production cycle, and guaranteed excellent quality of prototype.
Mounting Factory
A quality mounting factory has an experienced process development and production team and an international standardized management system to ensure that the manufactured PCBA products meet excellent quality standards and customer's plan.
Testing laboratory
Provide customers with high-quality laboratory certification and consulting guidance, providing comprehensive quality testing services and solutions.
Packaging & Printing Plant
professional printing talents with rich experience in printing and packaging, and a complete set of printing equipment to ensure that the printing achieves color precision and effectively improve production efficiency.